The Great Arjunia visits Las Vegas. As a magician, Las Vegas is a truly special place to visit.  Over the Christmas holidays, I had the opportunity to take a trip to Vegas with my dad, and we saw four awesome magic shows and we visited three magic shops and spoke to some very talented magicians. We saw performances by Mac King, Penn & Teller, David Copperfield and Gerry McCambridge (aka The Mentalist).
Mac King
The first show we saw was Mac King at Harrah's. This was my favourite show because it had a great blend of comedy and magic. It was not a big production so there were no humans being cut in half, and there were no vanishing cars. But it was funny and the tricks were incredible. I guess I liked it best because it is the type of magic show that I try to do, so it was very inspiring.
I would highly recommend this show to anyone going to Las Vegas. Mac King has been performing at Harrah's for twenty years. Tickets go fast so plan ahead!
I got a Mac King t-shirt, and I even got it autographed. Below is a picture of me and Mac King.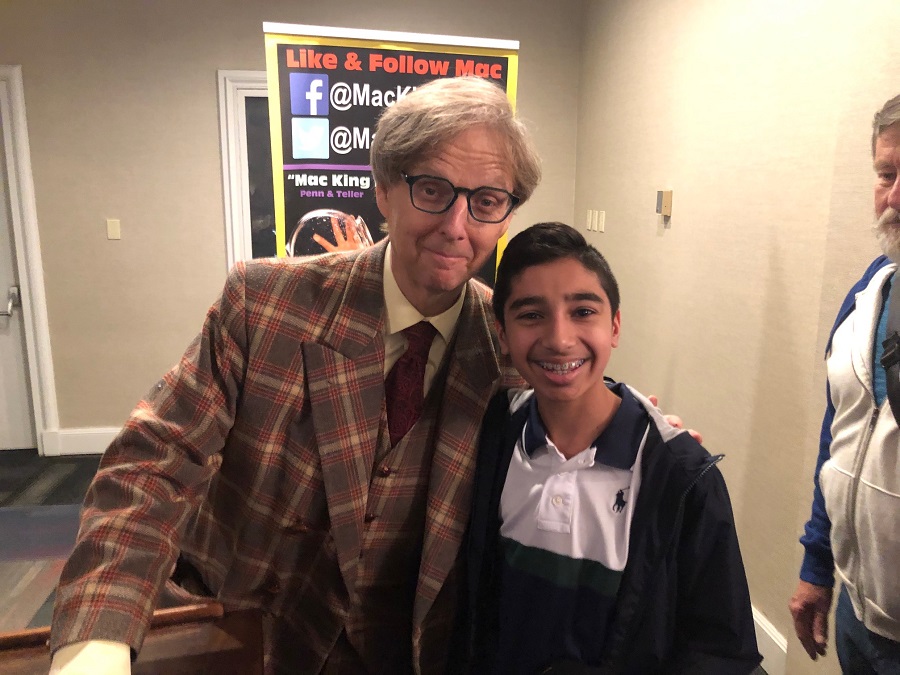 Penn & Teller
The next show we saw was Penn & Teller. Actually, it was Penn & Friends because Teller was off due to a recent back surgery. To fill in for Teller, there were a couple of other magicians performing in his place. So we got to see Mac King for a second time, as well as Piff the Magic Dragon.  Penn was great as usual and he did a really nice juggling routine with burning torches and also with broken bottles.  Although Mac King's routine was essentially the same as what we saw earlier in the day, I was quite surprised to say I enjoyed it more the second time.
As for Piff the Magic Dragon, although the illusions he did were great, I don't think his style of performance is exactly what I like. The humour is kind of adult oriented and he tends to single out and make fun of people in the audience.  This is the exact opposite of what I do in my shows. I try to make everyone feel included, and if there is a joke on someone, it is always on me.
I got to meet Penn after the show and get his autograph as well! See picture below.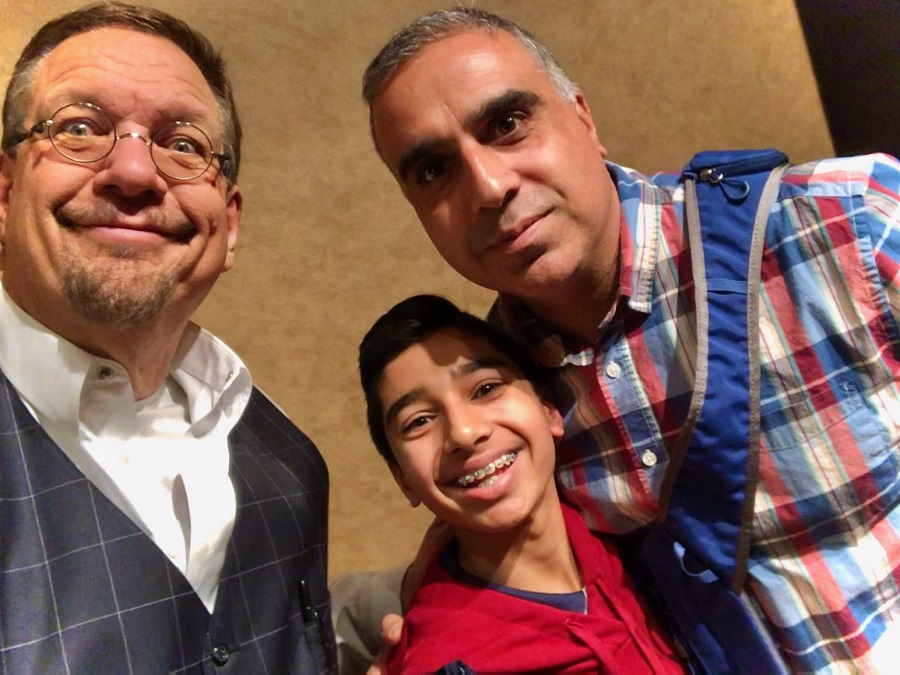 David Copperfield
David Copperfield is a legend in magic, so we had to see his show. I have heard my dad and others talk about his big tricks like making the Statue of Liberty disappear and walking through the Great Wall of China.
Let's just say, I was not disappointed with what I saw, and I saw up close because we had front row seats!  There were motorcycles appearing out of thin air, paper turning into a real flower in front of our eyes, and a spaceship that appeared over the audience and flew around. He is also a very good story-teller, and a theme that ran throughout his show was how he talked about his dad and how his dad always encouraged him to follow his dreams. I couldn't help but think how I was in Vegas with my dad, and how he is supporting my dream of being a magician.
Gerry McCambridge
The last show we saw was Gerry McCambridge, also known as the Mentalist from the TV show. This show was different than the others because it was more about mind reading and psychology. I was very interested because I do some mentalism tricks in my show and I am always working on getting better.
He had the crowd in the palm of his hands from the beginning of the show when he predicted which hand a volunteer would hide a coin in. By the end, he was playing Russian Roulette with nail guns and using his intuition to avoid the wrong nail gun. The audience was on the edge of their seats as they watched him hold the nail guns to his chest or head and fire them. In the end he was ok because guess what? The loaded gun was that last one, which he proved by shooting a balloon.
This show was great and I would recommend it for anyone who likes mental magic. Bellow is a picture with me and Gerry McCambridge.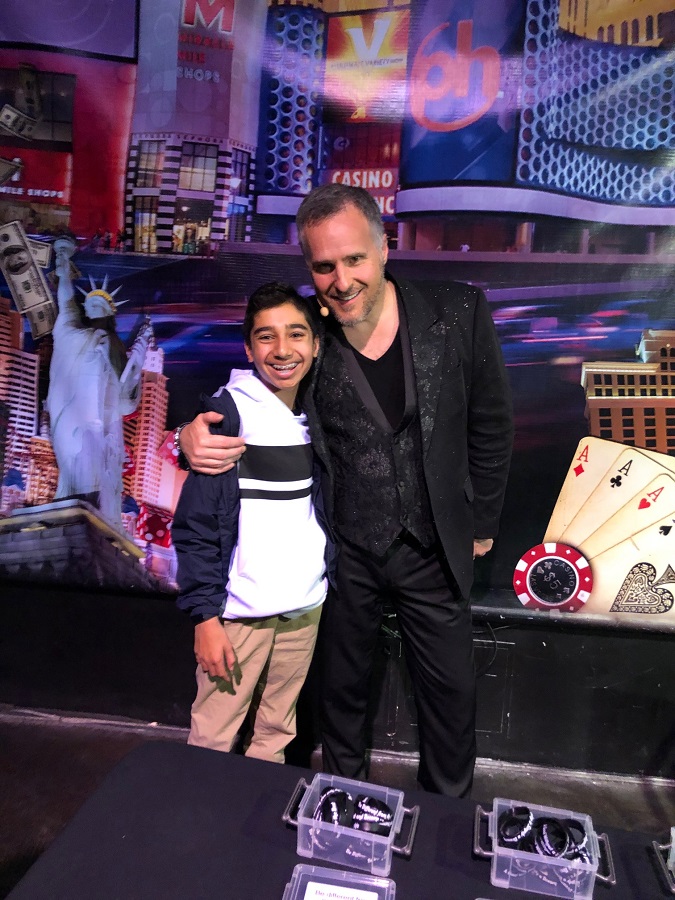 Beyond magic shows, we did lots of other stuff in our five days in Vegas, including:
Fremont Street Experience
Neon Museum
M&M Candy Factory
Coca Cola Store
Gondola Ride at the Venetian
Visiting all the hotels on the strips
I know people usually think of Las Vegas as a destination for adults, but I had a blast, and I think it is great for young people too, especially if you have an interest in magic!
What I am most grateful about this trip is the fact that I got to watch some legendary magicians and I learned a lot from them, and I am already working on incorporating some new bits into my show. Thanks to my parents for sending me on this trip.